Web Forms in paragraphs
Select an existing paragraph with no object on it or add a new paragraph where to add your (

) form object . Below the field list use the add, modify, delete buttons and change the order of the form fields you want to use. Different types of fields are available (text, selection list, email, date, ...) and you can change their properties to your needs (name, size, if field is mandatory or not, ...).
Remark : since version 7.09, TOWeb allows you to make your forms compliant with the GRDP (General Regulation on Data Protection).
Then select the type of form to use with the "Form settings" button. From there you will be able to activate or deactivate a captcha on your form.
In order to receive the form content by email you must setup a form action. We advise you to turn and use the i-Service Form of TOWeb ( Settings > i-Services screen ).



Mailing list : subscription form and list of contacts)


Polls : create surveys on your website to get feedback from your visitors


Blogs : authorize visitors/customers to post their comments to a paragraphs, photos or products
Captcha
All email addresses displayed in the text of your website can be viewed and used by internet robots scanning the content of your web site and your email could by used and spammed thereafter. To avoid receiving spams from malicious robots or scripts or even some visitors, it is first preferable to use web forms instead of just showing your email address but also to activate visual codes called captcha on your web forms so that only human beings can send you emails and no web robots. This protection level forms can be activated from screen "Settings > Security & HTML" by using then option Add a "captcha" code verification to your forms.
The Google ReCAPTCHA service is also supported (a version 8 of TOWeb or higher is required). Its use on your site requires to have a Google account and enter in TOWeb your 2 ReCAPTCHA keys communicated by Google. To do that your first need to connect to your admin ReCaptcha page and use the "+" button:

and then:

1- enter a label for the name of your site
2- select the "reCAPTCHA V2" option
3- add the domain name of your website where this ReCaptcha will be used (be careful not to put a web address starting with https: // or http: // but only the name of your domain)
4- accept the terms of use of Google
5- and click on "Submit"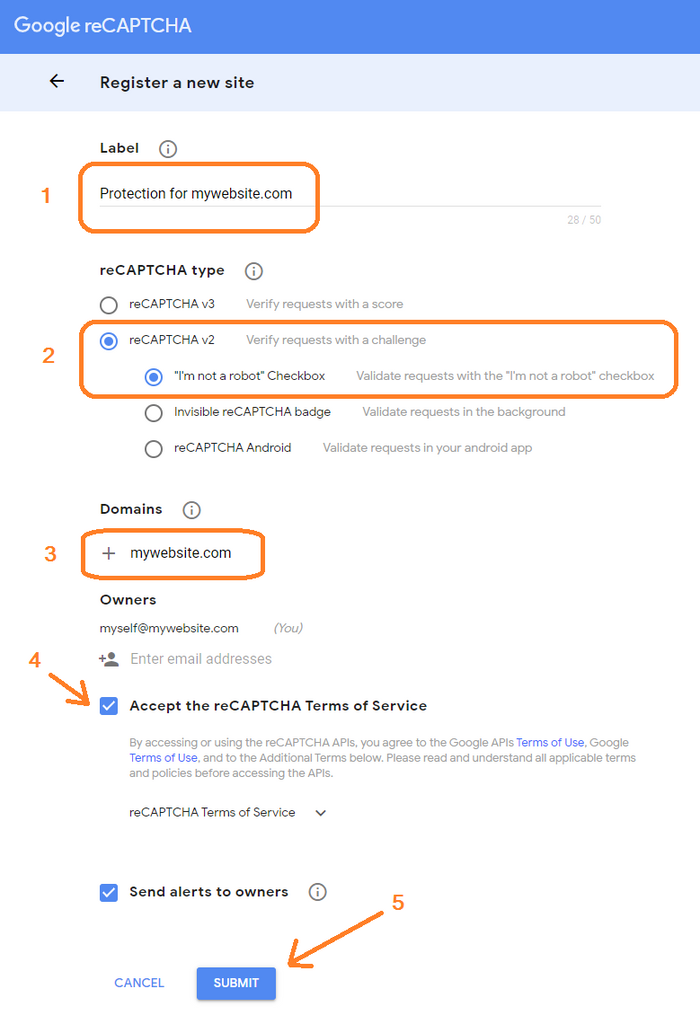 Once created, you just need to click on the "COPY SITE KEY" button to do a "paste" into TWOeb and proceed the same way with the "COPY SECRET KEY" button.
Note: if, for a particular form on a topic of your website, you want to disable this you can do it by checking the option "Disable the captcha security form" located in the properties of the web form you added to a topic paragraph.