Earn money by sponsoring TOWeb
Becoming an "Ambassador" is free and simple
The creation of a Free PageXL account is required to be able to promote TOWeb and manage your commissions. From your PageXL account you will find your TOWeb personal sponsorship link to share.
Each time a person visits our TOWeb site ( lauyan.com ) using your referral link, this will be stored for 30 days in a cookie of his/her web browser. And if, during this 30-day period, this visitor purchases a TOWeb license, then a 30% commission of the tax-free amount will be credited to your account.
You can request and receive payment of your commissions at any time as soon as the amount of your account exceeds the threshold of 100€.
The screenshot (on which you can click to enlarge it) shows the interface with the shareable links as well as the account history of a person who has already received a payment of 148.98€ and whose latest earnings are at 74.49€.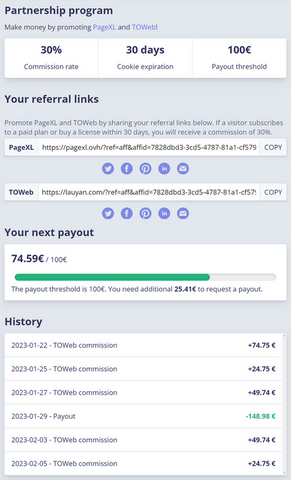 Everything to gain and nothing to lose !
Not only sharing your referral links around you costs nothing but depending on the people you will contact and their need for a web solution like TOWeb or PageXL, this can easily and quickly bring you a lot of money thanks to your 30% commissions (3)(4) on the amount (tax excluded) you receive for each sale made through your intermediary.
Completely free, open to everyone and without any commitment
No registration or subscription fees. Becoming a "TOWeb Ambassador" is free and everyone can become one, whether or not you have already purchased our products.
No obligation or quota is imposed on you. You decide to share your referral links with people of your choice (friends, family, professional relations, ...) when and as you wish in accordance with the terms of the partnership(2) and thereafter, at any time, can stop or continue to use your referral links.
A 30% commission on sales excluding VAT
For example, if a visitor land on the lauyan.com TOWeb site thru your referral link and thereafter, during the next 30 days, purchases (5) a Studio license, your partnership account will be credited up to 89.7€ just for this single sale depending on this person's country ! (6)
Min and max commissions earned depending on countries VAT

| | Min | Max |
| --- | --- | --- |
| TOWeb 11 PREMIUM | 23€ | 29,7€ |
| TOWeb 11 E-COMMERCE | 47€ | 59,7€ |
| TOWeb 11 STUDIO | 70€ | 89,7€ |
How to check the proper functioning of your referral links?
Before sharing your referral link and in order to fully understand the process and to be able to explain it to your contacts, you can perform the following verification test:
1) use your TOWeb affiliate link for example directly by using a "copy" and then a "paste" to the address bar of your web browser
2) once on the www.lauyan.com site, when you go to the Pricing page and click on one of the Buy now buttons then at the end of the order form, next to the question "how did you hear about TOWeb", you should see a code (your referral identifier) as well as a "referred by" mention like this :

Notes: the web browser used must accept cookies otherwise it will not work. This referral cookie will automatically expire after 30 days, unless the referred person reuses your link again (in which case it will expire again 30 days after the last use of the referral link).
Where and how to share your referral links ?
To promote TOWeb around you, you can share your referral links in different ways:
on social networks (WhatsApp, Twitter, Facebook, PInterest, ...) by yourself using the buttons provided in your PageXL account
on your blog or website by promoting TOWeb in a paragraph, a footer, a page containing your tests/reviews, ...
by email or SMS to your friends, clients or other relationships
by making video tutorials on TOWeb and sharing your referral link there
in your contributions to forums related to website creation.
Your articles and messages on TOWeb can be fed using the key points of TOWeb and illustrated by the images, logos, icons and screenshots of TOWeb.
If you have any questions regarding our partnership program or the use of your PageXL account, please do not hesitate to contact our service using at contact@pagexl.com.
(1) Our partnership program allows you to collect commissions on TOWeb sales but also those of PageXL (our other solution to quickly and easily create a website) using the appropriate referral links located in your PageXL account
(2) The terms of the partnership can be viewed in your PageXL account, below your referral links
(3) Commissions are not retroactive for customers who could have known and purchased a TOWeb license through you before the use of your referral links nor from people who have not used your referral links for their purchases
(4) Commissions are only applicable on purchases made by new customers and therefore does not apply to any license upgrades or subsequent purchases of other TOWeb licenses
(5) If you want to test your TOWeb referral link by yourself or make sure that your contacts correctly use your links before their purchase, this can be done by checking that the content of the "How did you know TOWeb?" field is not empty but mentioning your sponsorship in the TOWeb order form
(6) For example if a person residing in France where a 20% VAT is applicable and purchasing a Studio license at 299€, the commission earned is thus 30% of the amount of 249.17€ (excl. tax), that is to say a gain of 74.75€