Mailzy special offer during 3 days
January 11, 2023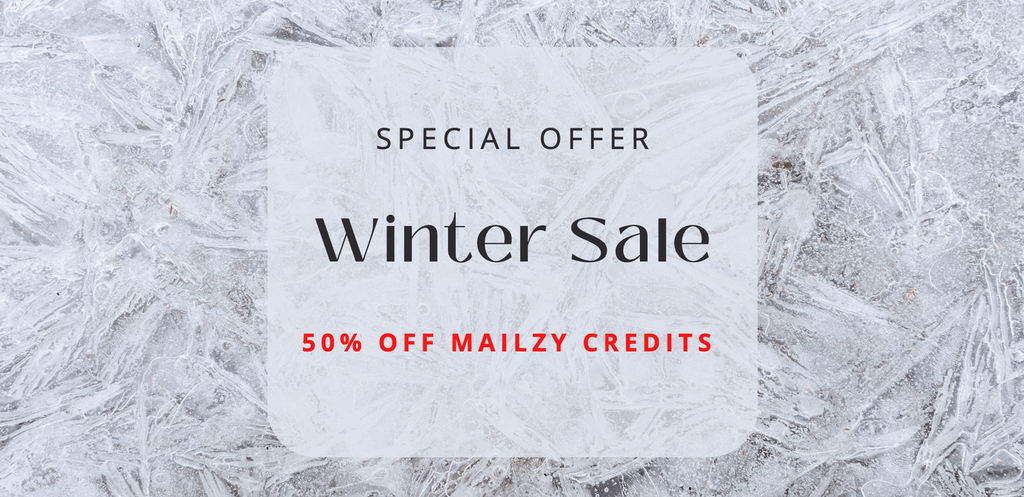 To send your greetings to your customers with a professional quality email and have the statistical follow-up (opening rate, clicked links, ...) or to offer promotions or discount coupons during this winter sales period opening, we are offering you the Mailzy credit packs at -50% for 3 days (end Friday January 13 at 23:59 GMT+1):
PACK OF 1,000 CREDITS: €19 instead of €29
PACK OF 2,000 CREDITS: €29 instead of €49
PACK OF 5,000 CREDITS: €49 instead of €99
PACK OF 10,000 CREDITS: €79 instead of €149
PACK OF 20,000 CREDITS: €99 instead of €199
PACK OF 50,000 CREDITS: €149 instead of €299
PACK OF 100,000 CREDITS: €199 instead of €399
PACK OF 200,000 CREDITS: €249 instead of €499
PACK OF 500,000 CREDITS: €299 instead of €599
Mailzy works without subscription, each email sent consumes a credit. 50 credits are offered on the first connection. When purchasing a pack, your 50 free credits are kept, and the Mailzy advertisement disappears at the bottom of your messages.
GET YOUR 50% OFF MAILZY CREDIT PACKS NOW !


Use Mailzy with TOWeb or PageXL
Mailzy is a completely standalone service, but if you are using the latest version 11 of TOWeb or PageXL, you can follow this tutorial to link your site/page's subscription form to a Mailzy mailing list to be managed automatically and free of charge regardless of your site, according to GDPR regulations.

This automated management of TOWeb and PageXL subscription forms does not commit you to using or buying Mailzy credits to send newsletters, it's totally free!

A mailing list built up over time can allow you to increase your revenues!