Offer TOWeb as a gift
When you check the gift option you do not receive the TOWeb activation key yourself but only the invoice to your name and a gift voucher to print and offer. Then you provide the coupon to the beneficiary person who must follow the instructions therein to receive the TOWeb activation key to his/her name.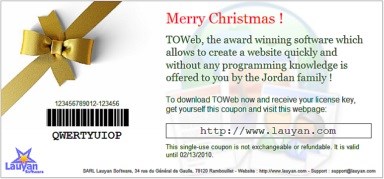 The title of the gift coupon (eg. "Happy Birthday!", "Merry Christmas "..) and the name placed at the end of the sentence "offered by..." are customizable information you need to provide when ordering.

If you do not like the gift voucher we provide, you can create and print yours by following the instructions in the mail delivery.
Option gift can generally be used whenever buyer and user are not the same person (the billing address of the purchaser license on behalf of the beneficiary) for example a computer service enterprise that resell a TOWeb license.

Vouchers are not exchangeable nor refundable and must be used within 3 months after purchase.
May you have any question regarding the purchase or use of TOWeb gift coupons, please contact our commercial team.