TOWeb - The Responsive Website Creation Software
New version 7
Create all by yourself a modern website compatible with all devices.
Without programming. Without subscription.
New! PageXL
If you just need a simple site
online instantly, like a landing page for your small business or a page for an event, then
give a try to PageXL
, our new single page website builder: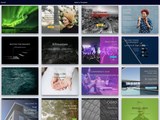 7 versions and more than 1 000 000 downloads in 13 years
Easy and intuitive
No technical knowledge is required. Install TOWeb, choose a template, click, edit and publish !
Read more →
Responsive Web Design
PC, mobile, tablet, TV ... the layout of your website automatically adapts to fit the screen on which it is displayed.
Read more →
Professional design
Create a site to your image that will impress visitors: TOWeb's website templates are fully customizable...
Read more →
e-Commerce solution
Create your online store and accept payments in minutes with the included e-commerce functions.
Read more →
Search engines optimized
Improve your visibility and ranking in search engines with a modern HTML5 website optimized for Google.
Read more →
No hidden charges
TOWeb is a software without any subscription or additional modules. Everything is included. The Standard edition is 100% free.
Read more →
Multilingual
Increase your audience by creating an international website, TOWeb supports all languages and character sets.
Read more →
Publish everywhere
Your site belongs to you and is independent of any hosting or third party service. You publish it wherever and whenever you want.
Read more →
Support included
We respond within 8 business hours to support requests sent via the form integrated in TOWeb.
Read more →

TOWeb not only allowed me to create myself a professional looking website without knowing anything about web design, but it has saved me a lot of time and money.
Corey Sherrod (USA)
I'm a user of TOWeb since the first version released in 2005 and I'm very satisfied with the product and services. I wanted to congratulate you for this latest version 7 which was great ! Thank you and congratulations for your work.
Thiago Araujo (Brésil)